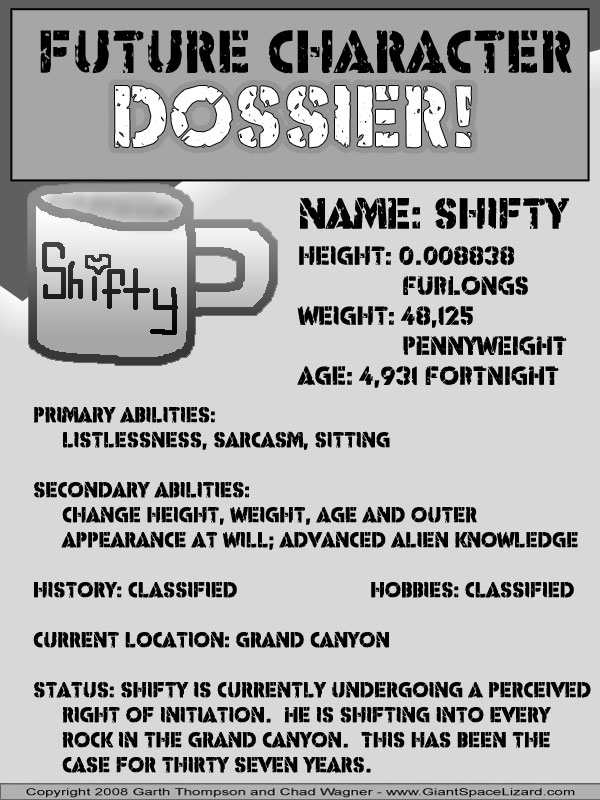 FUTURE CHARACTER DOSSIER

[[Image of coffee mug (label: Shifty).]]

NAME: SHIFTY

HEIGHT: 0.008838 FURLONGS

WEIGHT: 48,125 PENNYWEIGHT

AGE: 4,931 FORTNIGHT

PRIMARY ABILITIES: LISTLESSNESS, SARCASM, SITTING

SECONDARY ABILITIES: CHANGE HEIGHT, WEIGHT, AGE AND OUTER APPEARANCE AT WILL; ADVANCED ALIEN KNOWLEDGE

HISTORY: CLASSIFIED

HOBBIES: CLASSIFIED

CURRENT LOCATION: GRAND CANYON

STATUS: SHIFTY IS CURRENTLY UNDERGOING A PERCEIVED RIGHT OF INITIATION. HE IS SHIFTING INTO EVERY ROCK IN THE GRAND CANYON. THIS HAS BEEN THE CASE FOR THIRTY SEVEN YEARS.