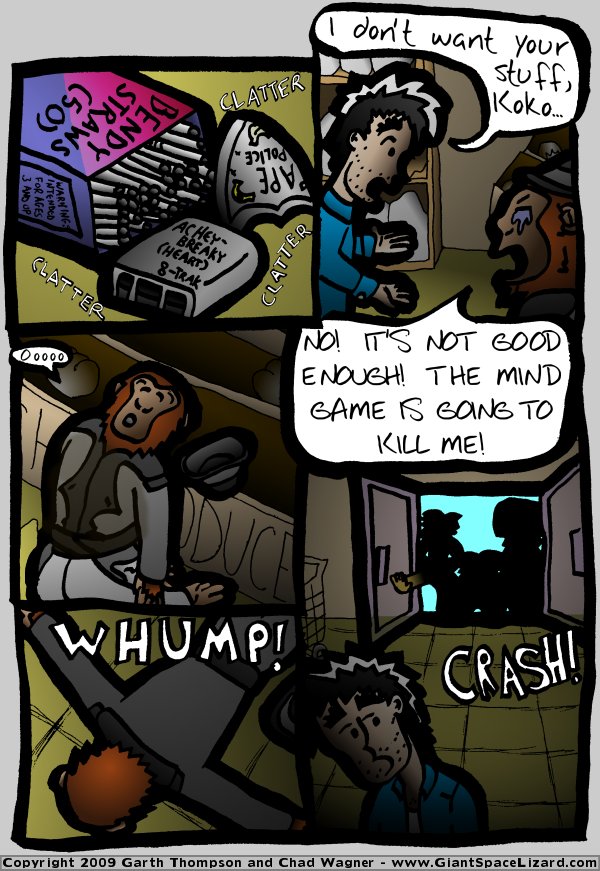 [[An open box of bendy straws (label: BENDY STRAWS (50) WARNING INTENDED FOR AGES 3 AND UP) a badge with pictures of bananas on it (label: APE POLICE) and an eight track cassette tape (label: ACHEY-BREAKY (HEART) 8-TRAK) fall to the ground.]]

Sound effects: CLATTER CLATTER CLATTER

Jim Wagner: I don't want your stuff, Koko…

Koko Bullet: NO! IT'S NOT GOOD ENOUGH! THE MIND GAME IS GOING TO KILL ME!

[[Koko Bullet faints backwards, his hat falls off.]]

Koko Bullet: Ooooo

[[Koko Bullet falls forward to the ground on his face.]]

Sound effects: WHUMP!

[[As Jim Wagner looks behind himself, the door of the grocery store is kicked open, and three shadowy figures appear in the doorway.]]

Sound effects: CRASH!